| | |
| --- | --- |
| Online shopping market poised to explode | Back |
Online shopping market poised to explode
Online shopping services are expected to boom in the next five years.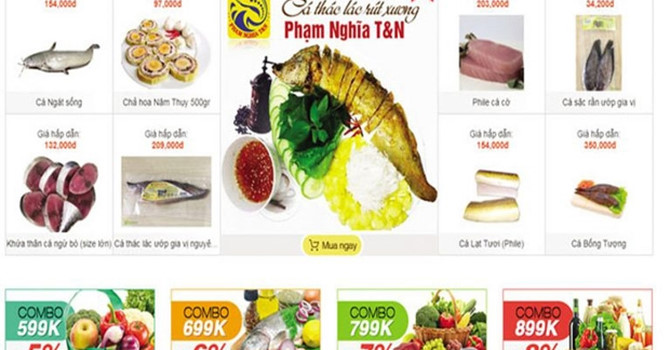 Mi Van, an office worker in Thu Duc district, HCM City, travels 45 minutes from her home to her office 9-10 kilometers away. It is a burden for her to shop for food for five family members every day.
However, her workload has eased as she now uses 3sachfood and Di Cho Nhanh (quick shopping) services.
Van orders food daily. Prior to 10 pm, she places orders and asks for delivery at home or office. Since the food has been partially prepared, she only has to spend time to cook, which takes 30-45 minutes.
The total expenses for her 5-member family are VND350,000-400,000.

In HCM City, about 10 companies and individuals provide online shopping services. The service providers show information about food prices and service fees on their websites.

To use the services, consumers just need to click on the products and put into a cart. They can also place orders through apps, message via operators, make direct calls or send messages via Facebook.

After receiving orders, service providers confirm the orders with calls or messages, and send bills via email. The orders finish at 9-10 pm every day, while food is delivered from 8 am – 6 pm the next day as requested by clients.

Nguyen Minh Nguyet, the owner of a Facebook account which provides online shopping, said she gets 25-40 orders a day for fresh, partially prepared and ready-made food. The value of the orders varies, from VND250,000 to VND2.5 million.

Phan Long, director of Green Healthy, which provides Di Cho Nhanh service said that Di Cho Nhanh has about 400 customers. There has been 30 percent new growth every month. Orders are VND500,000 on average.

According to Long, food is sourced from prestigious food suppliers. Long plans to work with producers to have stable material supply sources and control the quality of products. If he can do this, Di Cho Nhanh not only can ensure the clear origin and quality of products, but also reduce costs.

Online shopping service providers are facing specific difficulties. They have to be sure that food is delivered on time as requested by clients and ensure high quality of food. Late deliveries cannot keep food fresh.

Nielsen has forecast that the Vietnamese e-commerce market will grow 22 percent this year and 13.2 percent by 2020.
GIAO DỊCH TRỰC TUYẾN
| | | |
| --- | --- | --- |
| Chỉ số | Giá | Thay đổi |
| Dow Jones | 24,580.9 | +119.2 (+0.5%) |
| S&P500 | 2,754.9 | +5.1 (+0.2%) |
| FTSE 100 | 7,682.3 | +125.8 (+1.7%) |
| Hang Seng | 29,338.7 | +42.7 (+0.2%) |
| Nikkei 225 | 22,516.8 | +176.2 (+0.8%) |
PHS – Phân tích cuối phiên