| | |
| --- | --- |
| Garment manufacturers feel pressure from foreign fashion brands | Back |
Garment manufacturers feel pressure from foreign fashion brands
While Vietnamese garment companies think the domestic market is too small, foreign investors consider Vietnam the "new land" to exploit, with the garment market worth US$4.5 billion.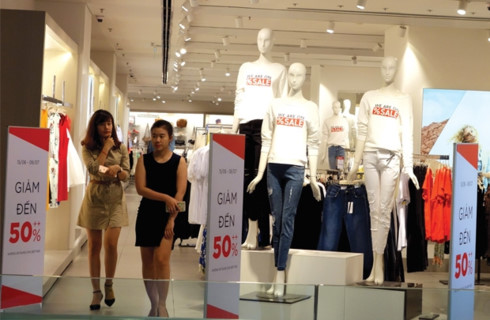 Vinatex's (the Vietnam Textile & Garment Group) CEO Le Tien Truong has said that the current production capacity of the textile & garment industry has exceeded the US$35 billion per annum threshold.
The small scale of the domestic market is not the alternative market for Vietnamese garment companies to target when exports fall, he said.

Vinatex said that 2016 was a tough year for the industry as the demand from the largest export markets declined. The exports to the US decreased by 3.4%, Japan 2.6% and the Republic of Korea 2.1%.

The domestic garment market, as shown by VIRAC, a market analysis firm, has small scale compared with other markets because of low spending per capita in Vietnam.

Vietnamese garment companies will have to face two big problems at home – the presence of counterfeit goods and products imported across the border gates; and the low capability of enterprises in distribution, design and branding.

VIRAC named well-known Vietnamese brands such as Viet Tien, Nha Be, May 10, PT 2000 and Ninomaxx, while saying that the number is modest compared with the presence of thousands of companies in the textile & garment industry.

A report from Vinatex showed that in rural areas, Vietnam's textile & garment products have to compete with imported products with no clear origin, while in urban areas, they have to compete with imports from the US, UK and ASEAN.

While Vietnamese enterprises are reluctant to develop the domestic market, foreign retailers and fashion brands all highly appreciate the market.

Maison, for example, has been bringing mid- and high-end fashion brands to Vietnam with the number of brands on the increase year after year, despite the ups and downs in the market.

To date, Maison has been distributing products of 21 brands, including Christian Louboutin, Karen Millen, Coast, Max&Co, Max Mara, Oasis, Predo, Charles & Keith and NYS, and owns 44 shops in Vietnam.

Son Kim Fashion, following the success with the brands of Jockey, Vera, Wow, J.Bus, has joined forces with two Japanese investors Williamson-Dickie and Sumitex International to bring the US Dickies brand to Vietnam.

Japanese Uniqlo with 2,000 shops worldwide is preparing to open two shops in Vietnam this year. Meanwhile, sources said Forever 21 would be present in Vietnam next year.
GIAO DỊCH TRỰC TUYẾN
| | | |
| --- | --- | --- |
| Chỉ số | Giá | Thay đổi |
| Dow Jones | 24,580.9 | +119.2 (+0.5%) |
| S&P500 | 2,754.9 | +5.1 (+0.2%) |
| FTSE 100 | 7,682.3 | +125.8 (+1.7%) |
| Hang Seng | 29,338.7 | +42.7 (+0.2%) |
| Nikkei 225 | 22,516.8 | +176.2 (+0.8%) |
PHS – Phân tích cuối phiên