| | |
| --- | --- |
| HCMC promotes trade with S Korea's Daegu city | Back |
HCMC promotes trade with S Korea's Daegu city
Viet Nam plans to eliminate tariffs on raw materials and spare parts and lower tariffs on small appliances and cosmetics imported from South Korea, according to Le Thanh Liem, vice chairman of the city People's Committee.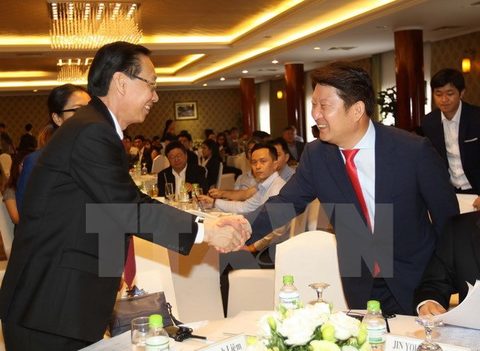 Speaking at the HCM City – Daegu Business Forum held on Monday in HCM City, Liem said in return Viet Nam would have opportunities to expand exports to South Korea of key products such as farm produce, seafood and textiles.
"The South Korea-Viet Nam Free Trade Agreement (FTA), which came into effect at the end of 2015, opened new economic cooperative opportunities and is expected to bring two-way turnover at US$70 billion by 2020," he said.
South Korea is one of the three biggest trade partners of Viet Nam. "The country is HCM City's fourth investor with 1,417 projects and total investment capital of $4.6 billion," he said.
Big Korean groups like Samsung, Lotte, CJ and GS have been successful investors in the city, he said.
As for tourism, the city welcomed more than 423,000 Korean visitors last year, a surge of 35 per cent compared to 2015, according to Liem.
"In the coming time, HCM City aims to achieve sustainable development and become a smart city," Liem said. "The city will focus on improving the quality of human resources, quality of growth and competitiveness of the economy, giving priority to reducing traffic congestion and accidents and flooding as well as reducing environmental pollution."
The city will create the most favourable conditions and protect the rights and benefits for foreign investors, particularly Korean enterprises, to invest in Viet Nam, he pledged.
"The country and the city will continue creating cooperation and exchange programmes through practical projects between the two countries," he noted.
Pham Thiet Hoa, director of the HCM City Investment and Trade Promotion Centre (ITPC), said HCM City was the largest economic and financial centre in Viet Nam and one of the most dynamic cities in the ASEAN region.
The city is calling for investment in nine priority sectors, including finance - credit - banking - insurance, commerce, tourism, logistics, science and technology, post and telecommunication, real estate, healthcare and education.
In addition, the city has offered many policies and incentives for four industries with high added value such as mechanical manufacturing, electronics - information technology, chemicals - plastic - rubber, and food processing.
Kwon Young Jin, mayor of Daegu, said that the city, well known as a hub for thread industry, tourist, health and culture, would welcome businesses from HCM City and Viet Nam to invest in the city, and that Korean businesses, especially from Daegu, look forward to more opportunities for cooperation in investment in the city.
South Korea also plans to open direct flights from Daegu to HCM City, he said.
Korean banks and the Daegu Chamber of Commerce and Industry will open branches and representative offices in HCM City to facilitate trade and share information for business cooperation between the two sides, he added.
More than 7, 000 Vietnamese people live and work in Daegu. There are 250 Daegu city's businesses investing in Viet Nam.
The HCM City – Daegu Business Forum was organised by Department of Planning and Investment and ITPC as part of the HCM City – Gyeongju World Culture Expo 2017 being held in the city.
GIAO DỊCH TRỰC TUYẾN
| | | |
| --- | --- | --- |
| Chỉ số | Giá | Thay đổi |
| Dow Jones | -24,370.2 | -53.0 (-0.2%) |
| S&P500 | -2,636.8 | -0.9 (-0.0%) |
| FTSE 100 | 6,806.9 | +85.4 (+1.3%) |
| Hang Seng | 26,128.5 | +356.9 (+1.4%) |
| Nikkei 225 | 21,498.2 | +350.2 (+1.7%) |
PHS – Phân tích cuối phiên