| | |
| --- | --- |
| FDI highlighted as key driving force of the economy | Back |
FDI highlighted as key driving force of the economy
The Vietnamese government have re-affirmed the great contributions that foreign direct investment (FDI) has made to the Vietnamese economy in the past three decades, stressing that this type of capital will continue being vital to the country.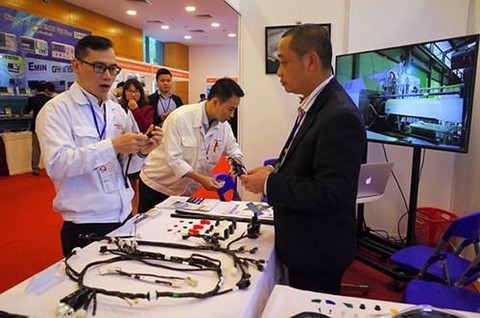 Minister of Planning and Investment Nguyen Chi Dung said that over the past few years it has become an established viewpoint that economic growth has been largely depending on FDI, and that Vietnam is now home to two smaller economies—the domestically-invested economy and the FDI-based economy.
"This stance is to some extent reasonable, but there should be no worries about it, because FDI is an indispensable part of the economy, especially given Vietnam's market-based economy and international economic integration efforts," Dung said at yesterday's dialogue with the business community in Vietnam, which was co-organised by Investors' Magazine and KPMG.
"FDI has been playing a crucial role in Vietnam's growth over the past 30 years as a big trailblazer for the economy. FDI can be likened to a bee that has been both sucking honey and pollinating the economy," the minister stressed. "Vietnam will continue attracting more FDI, but selectively. High-quality FDI will be prioritised in attraction."
According to Minister Dung, currently, FDI has been positively changing the economy. Specifically, it has contributed 12-25 per cent of Vietnam's total development capital in 1991-2017. Also, FDI currently accounts for over 50 per cent of the economy's total industrial production value and 70 per cent of the total export turnover. FDI currently generates employment for over four million people directly and millions of others indirectly in Vietnam.
However, Dung said, the issue now is to improve the competitiveness of Vietnamese enterprises, so that they can catch up with foreign enterprises. If this is done, the two types of enterprises can both be harnessed to power the economy and the development gap between them can be narrowed.
"The Ministry of Planning and Investment (MPI) will introduce new policies to combine these two types of enterprises for a more sustainable growth path," Dung said.
During his meetings with leaders of foreign countries and global firms and investors, Prime Minister Nguyen Xuan Phuc always praises FDI for its very important role in Vietnam's socioeconomic development.
"We are building a government of integrity in service of the public and enterprises. We will continue developing a more business-friendly climate in favour of all enterprises and investors. Your successes in Vietnam are also our successes," Phuc said at his meeting last week with Minister-President of Flanders Geert Bourgeois and 80 firms from the Flanders region in Hanoi.
The firms are seeking investment opportunities in Vietnam in the sector of logistics, education, transportation, and especially agriculture.
Phuc repeated this message during his meetings with Koh Dong-Jin, president and co-CEO of South Korea's Samsung Electronics, late last month, and with T. Kakiuchi, president and CEO of Japan's Mitsubishi Group, in late March, as well as with Hwang Kag Gyu, vice chairman of South Korea's Lotte Group, in early March.
Aaron Batten, country economist from the Asian Development Bank's Vietnam Resident Mission, told VIR that FDI will continue serving as the key driver of the economy this year.
"Vietnam's strong growth over the last decade has been propelled by closer integration into the global economy and by an increasing market orientation in economic policy, as well as the growth of domestic private enterprises. Free trade agreements (FTAs), culminating in accession to the World Trade Organization in 2007, have also helped to trigger a sharp increase in FDI and portfolio capital flows," Batten said.
Future FDI prospects are bright thanks to the recovering local production and Vietnam's participation in many FTAs, including the Comprehensive and Progressive Agreement for Trans-Pacific Partnership, the Vietnam-Korea FTA, the Vietnam-Eurasian Union FTA, and the Vietnam-EU FTA. Vietnam and nine ASEAN nations also established the ASEAN Community. All of these trade blocs will bring more FDI to Vietnam.
FDI disbursement hit a record of $17.5 billion last year, and $5.1 billion in this year's first four months.
"The figure is expected to reach the new record of $19 billion this year," Nguyen Mai, chairman of Vietnam Association of Foreign Invested Enterprises, told VIR.
According to MPI, as of April 20, 2018, Vietnam attracted 25,524 FDI projects, with the total registered capital of $321.25 billion.
GIAO DỊCH TRỰC TUYẾN
| | | |
| --- | --- | --- |
| Chỉ số | Giá | Thay đổi |
| Dow Jones | 24,207.2 | +141.6 (+0.6%) |
| S&P500 | 2,616.1 | +5.8 (+0.2%) |
| FTSE 100 | -6,862.7 | -32.3 (-0.5%) |
| Hang Seng | -26,772.1 | -130.0 (-0.5%) |
| Nikkei 225 | -20,425.4 | -17.4 (-0.1%) |
PHS – Phân tích cuối phiên