| | |
| --- | --- |
| Banks raise fees over 55 million trash ATM cards | Back |
Banks raise fees over 55 million trash ATM cards
Many banks have decided to increase banking service fees in early May. Economists suppose that the widespread use of ATM cards is the main cause behind the increases.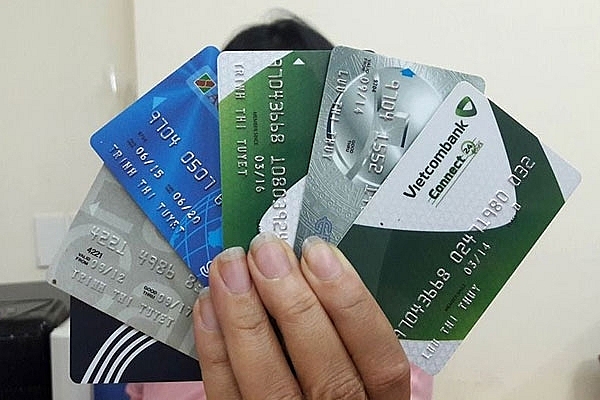 Data from the Vietnam Card Association showed that as of the end of 2017, the total number of ATM cards was 132 million, including 55 million trash cards. According to nguoiduatin.vn, economist Ngo Tri Long emphasised: "These 55 million trash cards increase banks' costs, who push the burden on customers by raising service fees."
To explain the large number of cards issued, financial expert Nguyen Tri Hieu said that the number of trash cards is not surprising because many banks have been issuing a huge number of ATM cards in recent years to meet their issued target.
"Every year, they set a target number of ATM card to be issued, which employees have to carry out. Therefore, banking employees used every possible way to turn people towards ATM cards, even when some of them did have real demand for them," Hieu added.
Luu Thanh Thu (Nam Dinh province) shared: "I have four ATM cards but use only one. As a student, the school only received tuition payment via VietinBank, so I had to make a card there, with the maintenance fee of VND50,000. My workplace pays wages via Techcombank, so I do not use my VietinBank card anymore."
Tran Ngoc Nam, a student of the Law Faculty in Hanoi National University, said: "I made six ATM cards when banks issued cards without fees or even minimum account balance."
Assessing the impact of the huge number of trash cards, Hieu said, "Trash cards do not make profit and are only a factor of risk for banks and customers if they fall into the wrong hands. The commonly used targets to issue ATM cards and distorts statistical data on the real use of ATM cards in the country.
GIAO DỊCH TRỰC TUYẾN
| | | |
| --- | --- | --- |
| Chỉ số | Giá | Thay đổi |
| Dow Jones | 24,207.2 | +141.6 (+0.6%) |
| S&P500 | 2,616.1 | +5.8 (+0.2%) |
| FTSE 100 | -6,862.7 | -32.3 (-0.5%) |
| Hang Seng | -26,772.1 | -130.0 (-0.5%) |
| Nikkei 225 | -20,425.4 | -17.4 (-0.1%) |
PHS – Phân tích cuối phiên