| | |
| --- | --- |
| Mobile World boss stands to win $90 million on new dividend plan | Back |
Mobile World boss stands to win $90 million on new dividend plan
Applying the new dividend rate of 3:1, Mobile World chairman Nguyen Duc Tai, who owns nearly 46.9 million MWG shares, will receive additional shares worth $90 million.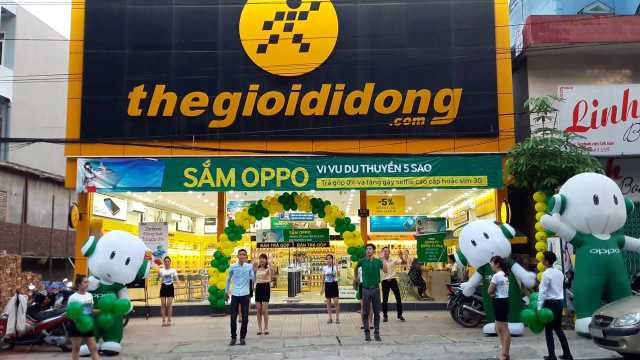 Mobile World Investment Corporation has just approved the new dividend rate for its current shareholders. Accordingly, the number of stakes issued is estimated at 108 million, with the dividend rate of 3:1, which means that each stakeholder owning will receive one share after every three they own. The newly issued shares will be instantly transferrable and the dividend will be covered from Mobile World's after-tax profit as of the end of 2017.
According to its financial report published in late 2017, Mobile World's total profit (without distribution) was nearly VND2.7 trillion ($119.47 million). The time to share dividends is in October and November this year, after receiving approval from the State Securities Commission (SSC). Currently, MWG's stakes are worth more than VND130,000 ($5.75), up nearly 30 per cent against last month.
Holding 8.2 million stakes, Mobile World chairman Nguyen Duc Tai is the firm's largest individual shareholder. According to the dividend plan, Tai will receive 2.7 million more shares worth VND351 billion ($15.53 million).
In addition to directly holding the stakes, Tai, via his wholly owned firm Retail World Investment Consultant Limited Company, indirectly holds 38.6 million more MWG stakes. Thus, Tai will receive 15.6 million shares worth VND2.02 trillion ($89.7 million).
With the total assets of over VND6 trillion ($265.48 million), Tai is currently one of 10 richest people on the Vietnamese Stock Exchange.
Its latest report stated that Mobile World recorded VND58.667 trillion ($2.6 billion) in net sales over the past eight months and VND1.969 trillion ($87.1 million) in after tax profit, which are up 39 and 36 per cent year-on-year.
Source: Vietstock Finance