| | |
| --- | --- |
| U.S. dollar surges to nearly VND23,500 | Back |
U.S. dollar surges to nearly VND23,500
Local banks continued raising the U.S. dollar to a new high of nearly VND23,500 today, May 20, given the ongoing trade war between the United States and China.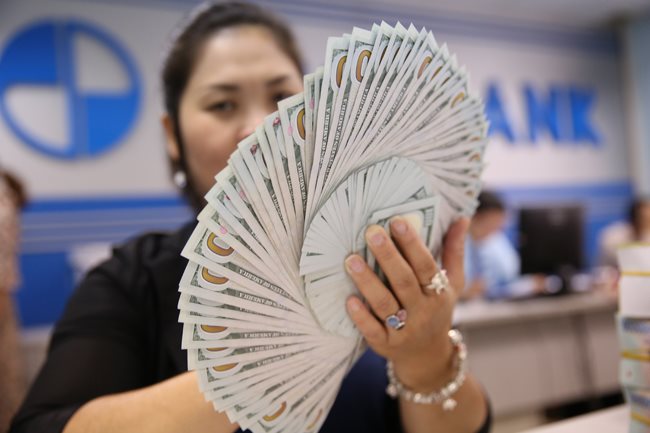 The State Bank of Vietnam announced the central reference rate between the dong and the greenback at VND23,069, up VND15 compared with last weekend. The rate has soared some 1.05% since the beginning of this year.
Local banks posted different dollar prices, with Vietcombank quoting the highest selling price. The lender bought the greenback at VND23,375 and sold it at VND23,495, up VND45 against the end of last week.
Meanwhile, Eximbank raised greenback prices by VND30 to VND23,380 and VND23,470 for buying and selling, respectively. Sacombank sold a dollar at VND23,477 for cash transactions.
According to the State Bank of Vietnam, the greenback started appreciating in the middle of April before surging rapidly from May 6, chiefly due to global concerns over the escalating trade war between the United States and China.
The central bank has applied flexible forex management methods and regulated the dong's liquidity and interest rates to stabilize the market and support local banks. Currently, the dong-U.S. dollar exchange rate remains relatively stable, while banks are still able to meet the legal foreign currency demands of organizations and citizens, the central bank stated.
Domestic gold prices dropped further today. Saigon Jewelry Company (SJC) in the morning quoted prices for the precious metal at VND36.26 million per tael for buying and VND36.43 million per tael for selling, before revising these downward to VND36.22 million and VND36.39 million, respectively. One tael is equal to 1.2 troy ounces.
The yellow metal also fell slightly to US$1,275 per ounce on the global market. Earlier, a survey of international experts and investors by Kitco showed that the gold price was projected to pick up this week.
Source: Vietstock Finance